EPCs
There are 3 basic types of EPCs, those for existing dwellings, (EPC or Energy Performance Certificate), new builds, (OCEPC or On-Construction EPC) and Commercial EPCs for business properties.

An EPC is produced following a site visit and is required by law for all properties being sold or rented out. The EPC must be ordered prior to marketing the sale or rental of the property and for rentals must be made available to any potential tenants. For properties being sold the graph from the EPC, (which is not the full report) has to be shown on the sales particulars. The Government is currently reviewing this as it is thought the information could be used much more effectively.
Once produced, the EPC is valid for 10 years, though again, this is being reviewed by the Government.
At Nationwide Energy Surveys we are happy to quote both to individuals requiring an EPC and to Estate Agents and letting agents wanting a regular supplier.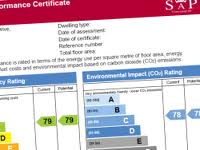 OCEPCs are almost identical to EPCs but the information on them is generally more accurate due to the greater amount of detail taken from the architect's drawings. The same rules apply to OCEPCs as per EPCs, but are produced using a different piece of software, and are required for a sale of a newly built dwelling. The Local Authority Building Control Officer may want to see this prior to signing off the building as complete. The SAP assessment used to produce the OCEPC can also produce a PEA, (Predicted Energy Assessment), enabling a dwelling to be marketed from plans, so advertising can be done before the building is complete.
Commercial Energy Assessments are produced using yet another piece of software and will vary in complexity from a small shop, to large warehouse space.